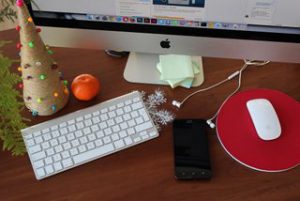 The holidays have always been an overwhelming time for employees because of competing demands and expectations.
At this time of year, it's challenging to stay focused as parties and reunions are happening left and right. It becomes stressful to cram added responsibilities into an already-packed schedule. On top of your tasks at work, you're thinking about your travel plans, shopping for presents, preparing your home for guests, and attending events. And if you have kids, they may already be home from school, adding to your daily demands.
While it's natural to lose focus and momentum, there are ways that will help you maintain your productivity over the holidays. After all, you don't end up missing out on all the fun when you find yourself so overwhelmed with work that didn't get done because your mind was somewhere else. And you certainly don't want to mismanage your work responsibilities and not meet deadlines or produce quality work.
Here are 5 ways to help you maintain a high level of productivity over the holidays:
Stick to a Plan
The holidays certainly did not catch you off-guard. Every year, you know they're just around the corner, and you've probably even been looking forward to them. By planning early, creating a to-do list, prioritizing, and being clear about your expectations, you're more likely to commit to your schedule.
Don't Multi-Task
Balancing your professional and personal activities is probably why you've been successful in your career. Blurring those lines can cause a disruption in your work performance and affect your relationships at home.
The holidays shouldn't give you permission to start to bringing more work home or allowing your personal life to interfere with your job. Keep your focus on the value-added work of your role. Nor should you be answering work emails while you're decorating the tree with your kids!
Learn to Say No
Recognize that there's only so much you can do. Identify which invitations you can say politely say no to and which ones are your non-negotiables. Just because you'll get many work-related invites, it doesn't mean you are obligated to attend them all, particularly if it's at the cost of missing out on meaningful personal gatherings. Remember that the holidays are a time to celebrate your personal and professional relationships and that you can maintain work-life balance when you don't over-commit. 
Commit to Stay Focused
To stay focused, you need to make an agreement with yourself to not give in to distractions. When you are at work, focus on your responsibilities and refuse to think about holiday-related errands such as buying gifts, stocking the pantry for relatives who are staying over, or picking out more Christmas ornaments for the tree.
Don't Forget What the Season is All About
What does this holiday season mean to you? When you take a moment to remember what the holidays truly mean, you'll stop over-analyzing and allow yourself to just enjoy the festive season while also not neglecting your responsibilities at both work and home.