More services to help your organization...
Accountable Change
Frustrated with your current situation? It doesn't have to be this way!
High performing organizations ensure that their managers are aligned and working in a concerted way to help achieve strategic objectives, while maintaining operations and managing their subordinates.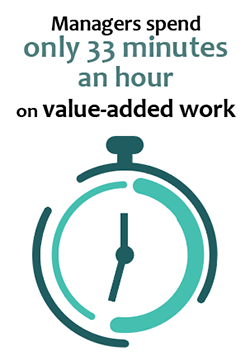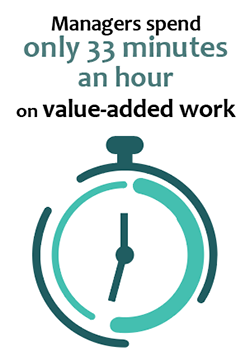 And yet our research partnered with the Telfer School of Management at the University of Ottawa finds that organizations uses 45% of their managers' time ineffectively. This is a systemic problem in organizations. The number one issue driving this lack of effectiveness is a lack of clarity of accountability and authority. Managers, from the CEO down, are not doing their critically important managerial work.
An effective change management program that is rooted in accountability can make the difference. By attacking and removing the root causes issues symptoms such as diffused effort, poor communication, silos, missed deadlines, missed work, supplicated work, and so on can be eliminated.
The common element? Having effective managerial leadership practices working in harmony throughout the entire organization, within a clear accountability and authority framework.
Yes, it's work, but there are tools and techniques you can use. You don't need to start from scratch. We have developed an approach – the Effective Point of AccountabilityTM – that can be used as a road map by organization to ensure that managers are clear about what they need to accomplish, and how they work together. Rely on our 40+ years of organization change experience to kick start your change process – starting where you are, and helping you make the necessary changes in a sustainable way.

Let's discuss
whether an accountable change program can help you create and sustain a high performance organization.
---
Call today! +1 647 283 1096
Explore how we can collaborate to find and implement solutions that matter. We start where you are to help you get where you need to go!
More services to help your organization...