Services – How We Help Our Clients Improve Performance
Effective ManagersTM: Helping create and sustain high performance organizations.
Most organizations have a strategic plan. But 70% fail to achieve their strategic goals. Why?
Organizational churn!
What is churn? It is that wasted activity in organizations that absorbs time, wastes energy, and doesn't produce expected results:
Meetings, meetings, meetings – why doesn't someone just decide?
Conflict: People in different parts of the organization disagree on how and when they need to work together.
Poor communication: The right information is not getting to the right people at the right time. 
Silos: Departments decide to "do it themselves" because they can't trust their peers to deliver what was promised on time.
Drift: The executive team decisions are not implemented consistently throughout the organization.
Indecision: People that should be making decisions are not, resulting in delays, and missed opportunities and duplicated work.
From Forbes
According to the research of Dr. Kotter, which has been validated by several other studies, approximately 5% of all organizations implement their strategies successfully, and 70% of strategic initiatives fail to meet their objectives. The remaining 25% have some middling success but do not meet the full potential of the strategy devised.
Organizations tend to attack these issues: they run programs on things like running better meetings, team building exercises, communications programs, leadership training, and so on. But the programs seldom seem to deliver the desired results.
Most initiatives fail to deliver because these issues are symptoms of churn, not the cause of churn. Treating the symptoms is like giving an aspirin to treat a fever. The fever may go a way for a while, but the underlying disease is not gone. The fever will come back.
Getting it right matters. Research by Effective ManagersTM and the Telfer School of Business (University of Ottawa) have quantified this churn – managers in a cross section of various sized organizations report spending only 55% of their time on value-added work. Almost half of their time is consumed doing work that is not adding value in the way it should and could.
Effectiveness Assessment
Following the research, Effective ManagersTM has developed a Manager Effectiveness Assessment.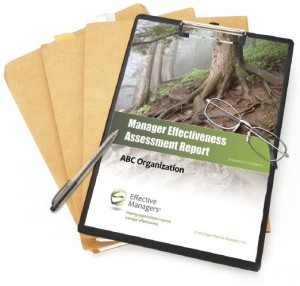 Organizations can now measure the effectiveness level of their managers, and obtain insights into the underlying causes of the ineffectiveness. This creates an ability for organizations to stop investing in programs that treat symptoms, and make fundamental changes that can drive organizational performance.
The effectiveness assessment is web-based, and requires only 20 – 30 minutes of each manager's time to answer 94 questions. The results are presented together with benchmark comparisons, observations, and concrete recommendations for change. Included in the service is a meeting with the CEO and the Executive Management Team facilitated by a senior management consultant to ensure that the results are understood, and to support decision-making.
Let's discuss where the Manager Effectiveness Assessment can help you create and sustain a high performance organization.
Click here to learn more about how the Manager Effectiveness Assessment can help you improve engagement and performance.


We can help you create and sustain a high performance organization.
You can also check out our Infographic here. Or email me to set up a call.
Organizational Realignment
Frustrated with your current situation? It doesn't have to be this way!
High performing organizations ensure that their managers are aligned and working in a concerted way to help achieve strategic objectives, while maintaining operations and managing their subordinates.
And yet our research partnered with the Telfer School of Management at the University of Ottawa finds that organizations uses 45% of their managers' time ineffectively. This is a systemic problem in organizations. The number one issue driving this lack of effectiveness is a lack of clarity of accountability and authority. Managers, from the CEO down, are not doing their critically important managerial work.
An effective change management program can make the difference. By attacking and removing the root causes issues symptoms such as diffused effort, poor communication, silos, missed deadlines, missed work, supplicated work, and so on can be eliminated.
The common element? Having effective managerial leadership practices working in harmony throughout the entire organization, within a clear accountability and authority framework.
Yes, it's work, but there are tools and techniques you can use. You don't need to start from scratch. We have developed an approach – the Effective Point of AccountabilityTM – that can be used as a road map by organization to ensure that managers are clear about what they need to accomplish, and how they work together. Rely on our 40+ years of organization change experience to kick start your change process – starting where you are, and helping you make the necessary changes in a sustainable way.
Let's discuss whether an organizational realignment can help you create and sustain a high performance organization.
What Our Clients Are Saying
"Excellent value in terms of insights and strategies for improving manager effectiveness." 
– George Weber, President and CEO, The Royal Ottawa Health Care Group

"I am very pleased that we decided to move forward with this important tool and I would recommend it to any CEO who wishes to take the pulse and engage all levels of management." 
– Jo-Anne Poirier, President and CEO, VON

"Very illuminating… helps to increase and support manager effectiveness rather than unknowingly create barriers to effectiveness." 
– Lynn Stevens, VP, Human Resources, Calian
Call today! +1 647 283 1096
Explore how we can collaborate to find and implement solutions that matter. We start where you are to help you get where you need to go!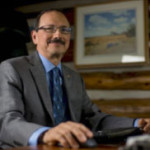 Dwight Mihalicz has over 40 years of organization experience in a broad variety of organizations and situations. Over this period he has been required to focus on and solve a broad variety of complex problems in local, national, international and global settings. Throughout his career, he has developed extensive expertise in supporting improvement processes with large organizations.
Since 1999, as a management consultant he has consulted across all sectors and all sizes of organizations. This has given him experience in a broad variety of situations with a focus on organization alignment, and supporting the implementation of large change projects. In 2013 Effective ManagersTM partnered with the Telfer School of Management at the University of Ottawa to conduct ground-breaking work on understanding the dynamics of manager effectiveness in the workplace.
He has formed a company, Effective ManagersTM, specializing in the improvement of productivity and effectiveness of managers. His focus is on working with CEOs and Heads of HR to help them improve organizational performance by helping managers to be more effective. He recently published a book, The Effective CEO: The Balancing Act that Drives Sustainable Performance, available on Amazon or the Effective ManagersTM website.