The Effective CEO: The Balancing Act that Drives Sustainable Performance
Why are some CEOs successful, while others are not?
There are lots of reasons! Across all sectors and industries, CEOs are under tremendous pressure. They're often expected to create more profit with fewer resources and deliver more results in less time while continuing to meet rising shareholder expectations.
This book recognizes that successful CEOs maintain a balancing act across a series of critical functions. It is a must-read for CEOs or aspiring CEOs who want to understand the dynamics that drive sustainable performance.
At fewer than 120 pages, this is a quick read that will introduce you to the six key functions that need a CEO's attention, and provides helpful insights into how they impact performance.
---
Thanks for your interest in our Effective ManagersTM Resources! Please provide your name and email to complete your free download. This will also entitle you to our free monthly eNews which delivers our best content directly to you.

We are looking forward to sharing our knowledge, and we hope you enjoy it. Your contact information will never be divulged to another party. And if you do not find the eNews to your taste, you can unsubscribe at any time.

If you find this information helpful, please spread the word! If you have any questions or comments, please call or email Dwight… he is always happy to be in touch and to help if he can.
ePub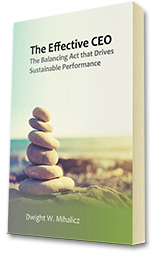 Paperback