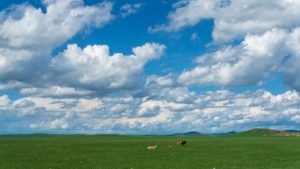 My sister spoke the words with such passion and conviction that I stopped short.
"Every day you must walk on uneven ground".
It was one of our last visits together as she was suffering from terminal cancer. Despite this, we were having a wonderful walk in southern Saskatchewan, enjoying the semi-arid landscape filled with so much life.
I told her how at peace I was feeling, to be in nature and to feel it all around me.
Walk on uneven ground?
It really resonated. I took her meaning to be that I spent too much time in the city. The hustle and bustle of city life, and the heavy travel of a consultant left few hours for walking in nature. The easy path is the paved path, and although our sidewalks and highways make life easier, they also rob us of something innate, something that is important to humans.
The thought was an impressive one for me, and I vowed to try to live up to her advice.
It's only recently, many years after her passing, that the true depth of her words finally resonated with me.
On the face of it – yes, nature is important. Walking on that uneven ground, being one with nature, watching the waves on a lake, seeing the mountains in the distance. All these things are invigorating and restorative.
But it is so tempting for us to take the easy way, to walk the paved road, in our work lives as well.
Each of us in our work lives has a lot to do. In fact, as managers, there is always more on our plate than we can accomplish in a day. And that is OK. Part of the job of managing is to understand and set priorities over time.
From everything on my list, what do I do next?
And in making this choice, it is easy to walk the paved road. It is easy to choose to do the work you know you are good at and can accomplish in a known period. But what about that work which stretches you, that will use your full capability? The results aren't certain. You know it is important work, but you keep putting it off.
There is published work that shows why it is better for humans to walk uneven ground than paved ground. Our biological makeup is tuned for uneven ground. It may be a harder walk, but it really is better for you.
There is also research that shows how complexity of work varies, and how work increases in complexity. Humans also have a capability to work at different levels of complexity. As we are promoted in an organization, the highest order of work for which we are accountable is more complex. And just as walking the uneven ground is more difficult for us, working at our highest level of capability is harder for us. But it is also more rewarding, because this is your value-added work.
It happens to me all the time. There is the task that is on the top of my to-do list every day. And I just don't manage to get to it. Today or the next day or the next. When I finally say, OK, I've got to do this, and finally apply my full capability, I am usually surprised. It didn't take as long as I thought it would, and the results are better than I expected. It doesn't matter whether it is a difficult meeting, a recommendation on a complex problem, or a troubling process issue. What matters is that you used your full problem solving capability to do the value-added work in your role.
Why is this so important?
Value-added work is work that only you, in your role, with your capability can do. It is work that is uniquely yours. So, if you don't do this work, then no-one else will do it. No-one else is positioned to do it.
Your managerial leadership work falls squarely into this category. Only you can mange your team members. If you don't no-one else will.
I have been writing about how important this is since we did our research with the University of Ottawa in 2013. Managers drive employee engagement, and by doing so, mangers drive success. I was pleased to see a book recently published by Gallup Chairman and CEO Jim Clifton and Gallup Chief Workplace Scientist Jim Harter that makes this exact point. Gallup, the authors and champions of employee engagement have coined the phrase: the manager experience. This is great, because it emphasises how critically important the manager role is to team success and to organizational success. This is exactly the mantra of Effective ManagersTM.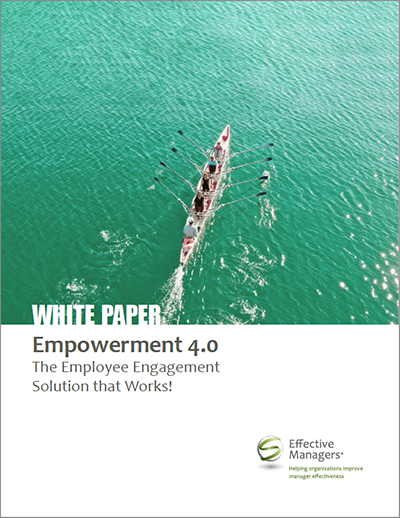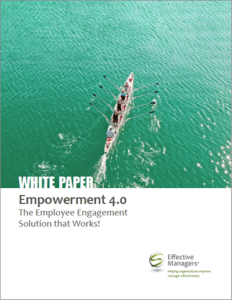 Learn more about the manager's role in driving employee engagement in the complimentary white paper: Empowerment 4.0, The Employee Engagement Solution that Works!
Download a complimentary copy here: Empowerment 4.0 Whitepaper
Check out our YouTube channel for free VidCasts and recorded Webinars.