Managerial success is undoubtedly a category affected by multiple metrics. It also takes more than one or two skills to be successful as a manager. Excellent leadership capabilities, coaching and communication, are only a few of the skills that a good manager must use daily.
However, the most important thing determining whether a manager is successful or not is the level of performance of their team. Even though having a good manager can help a team perform better by itself, it might take more than that to create a high-performing group. Let's have a closer look at the most critical things successful managers accomplish, and how they do it:
A Manager's Day-to-Day Tasks
Managerial daily tasks include more than the everyday grind of the functions in your specific job description. For example, a manager might face a unique initiative or a project to work on, assigned to them by someone higher up, and they also have to think about the managerial leadership of their team. Unfortunately, many managers are so swamped with work and so overburdened by the lack of resources that they only spend 55% of their time doing value-added work. In practice, this means that they don't get to do the managerial leadership part of their role much, if at all.
A Team Member's Day-to-Day Tasks and Efficiency
Members of the team also have to think about their day-to-day job requirements, special projects and managing themselves (and potentially other members of the team as well.) For a team to be efficient, every team member has to be on top of their daily tasks, every day. They must ensure that they have proper collaborative processes and that they provide support to each other and operate effectively.
In short, successful managers are the ones who ensure every member on the team they're managing is working as efficiently as possible. That creates a high performing team, which signifies the importance of proper managerial leadership in ensuring efficiency. But how do managers accomplish it?
Accomplishing Maximum Efficiency
A well-performing team member has certain qualities that every manager should strive to facilitate. It's not solely about their performance and dependability. It is also about understanding when to escalate issues and when to try to resolve them on their own, coming up with creative solutions to particular problems, and able to make their decisions within the pre-defined context.
These qualities can only come into play if a manager has a good understanding of the team member's capability to perform the work that is expected of a specific role. Only then can they assign the right people to the right jobs, and ensure that they've created a harmonious team that will perform at the top of its ability.
Key Takeaways
A good manager understands the complexity of work required for each role and has a deep understanding of every team member's problem-solving capability which determines which position is the right fit for them. That way delegation of tasks down the organization becomes more natural, and every team member is capable of accomplishing the jobs they are entrusted with promptly.
Here at Effective Managers, we've developed the Effective Point of Accountability methodology, which you can apply to your organization and the teams you lead to become successful.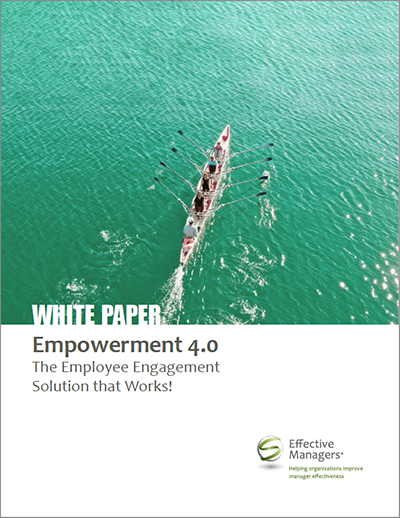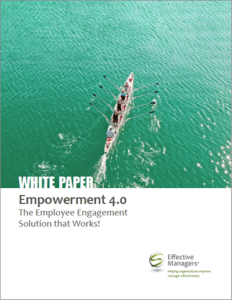 Learn more about the manager's role in driving employee engagement in the complimentary white paper: Empowerment 4.0, The Employee Engagement Solution that Works!
Download a complimentary copy here: Empowerment 4.0 Whitepaper