Do your team members go home at the end of the day feeling badly about what they didn't get done, instead of feeling good about what they did get done?
We are working more, but not seeing expected results. We are running faster and more furiously than ever, and it's like we are standing still. It's a frustration shared by organizations ranging from small enterprises to multinational corporations. How can you build profits, increase productivity, create more robust growth, and achieve better morale among your people? Your management practices – and people – are the solution.
The effectiveness of managers is directly tied to increased productivity and employee engagement. The most important relationship that employees have at work is with their immediate manager – that's you! The importance of your role cannot be understated, but too often, management practices are not supported or structured in a way that allows for the results you need to drive performance.
Understand why managers can't get to their To-Do Lists, and what you can do to make a difference, for yourself and your team.
Now, for the first time ever, the Effective ManagersTM methodology is being made available directly to managers. Dwight Mihalicz, President of Effective ManagersTM and Professor Swee Goh, Professor Emeritus of the Telfer School of Management at the University of Ottawa are partnering to present a half-day workshop to managers, senior managers and HR professionals in Toronto and Ottawa. Having collaborated on the Effective ManagersTM Research program in 2013, they have developed a methodology to help managers:
Understand what effective management is, and why it matters;
Understand the key drivers of manager effectiveness, and how to apply them in their situation;
Revisit in real-world language the concept of leadership in organizations, and the 5 Requirements of Effective Managers;
Develop individual plans for working differently when they get back to the office.
This workshop will be of interest to Directors and Executives (anyone who manages managers), and HR Professionals.
---
If you want to learn how to write a strategy or run a meeting,
don't register for this workshop!
But if you want to make a difference in the effectiveness of the managers
on your team – this workshop is for you.
Toronto: Wednesday, October 21, 2015
Ottawa: Wednesday, October 28, 2015
8:00 – 8:30 Registration and Networking
8:30 – 12:00 Workshop Session
12:00 – 12:30 Post Session Discussions
Price: $395 per person including all materials | $355 each for 3 or more people from the same organization.
Early Bird Registration!
Save $55 if registering before August 31, 2015
Register EARLY: Registration is limited to 20 persons to assure a fully participative event.
It's all about team! You will come away with insights that will make you a better manager, and help your managers to be more successful.
Here is what managers who have taken the Effective ManagersTM Workshop in an organizational setting had to say:
… practical, interactive…debunking myths about leadership and management… valuable information… relevant to the job… opportunity to have discussions with peers… topic is pertinent…information was given in an easy, understandable manner…appreciate the high level of preparation and handouts…well organized and presented management framework… thank you – I got more than I expected…
Email dwight@effectivemanagers.com to reserve your slot.
---
Agenda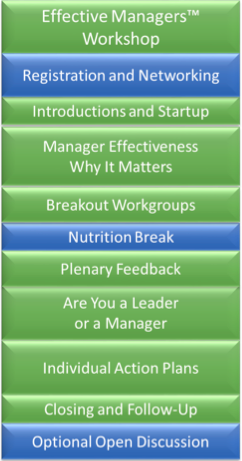 The workshop is built around four core elements.
1. MANAGER EFFECTIVENESS – WHY IT MATTERS
This session is partly interactive and partly facilitator led. The intent is to help participants understand the role of the manager in organizations, and those things that can support or get in the way of managing effectively. It is research-based and will be presented in such a way that managers will relate to the material.
2. BREAKOUT WORKGROUPS AND PLENARY
Accountability is the number one key factor in ensuring that managers are effective in their work. Understanding how work is delegated down the organization, and how work flows smoothly across the organization is critical to this. In this session, participants will work in small groups to discuss how accountability can be improved in their situations. They will report back to a facilitator-led plenary session.
3. ARE YOU A LEADER OR A MANAGER?
Effective ManagersTM has distilled the various approaches to management into five requirements that all managers must be familiar with and carry out as part of their managerial duties. This interactive session begins with a discussion of the importance of leadership in organizations. This is followed by an introduction to the five requirements for effective managers to ensure their understanding of the concepts, and through discussion to understand how it might apply in their situation.
4. WORK PLANNING ON HOW TO DO THINGS DIFFERENTLY
In this session, the learning from the previous sessions is brought together. Managers will work individually to write down some observations and plans on how they should work differently when they return to their organizational units. The focus will be on doable work plans that each manager will have ownership of, and will use with their subordinate managers.
The workshop closes with an optional open-forum discussion period.
Email
dwight@effectivemanagers.com
if you have any questions, or to reserve your slot.
Don't delay – places are limited!